Date

22/06/2011

First

Anatoly

Surname

BITKOV

Sex/Age

M, 38

Incident

homicide

Motive

nJ

Place

apartment

Job

chief editor

Medium

television

Federal District Plus

FAR EAST

Street, Town, Region

Magadan, Kolyma Region

Freelance

no

Local/National

local, Kolyma + TV

Other Ties

Cause of Death

stabbing

Legal Qualification

Impunity

conviction, January 2012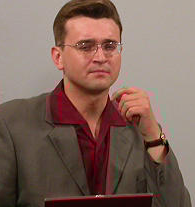 KILLER SENTENCED TO 13 YEARS IMPRISONMENT (January 2012)

The killer of TV editor Anatoly Bitkov has been sentenced to 13 years imprisonment in a special regime penal colony.

*

STABBED TO DEATH (22 June 2011)

Anatoly Bitkov, chief editor of the Kolyma plus TV company, has been found dead in his apartment in Magadan. He had been repeatedly stabbed in the neck and other parts of his body. The 38-year-old journalist was well known in the region, where he was responsible for news, features and analytical programmes. Investigators consider his murder was the result of a private dispute.