Date

17/12/1999

First

Alexander

Surname

LOSKUTOV

Sex/Age

M, 44

Incident

accident

Motive

J

Place

road

Job

journalist

Medium

print

Federal District Plus

Chechnya

Street, Town, Region

Grozny, Chechnya

Freelance

no

Local/National

national, Morskoi sbornik

Other Ties

Cause of Death

car crash

Legal Qualification

no information

Impunity

investigation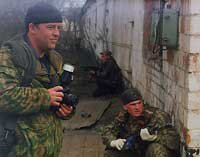 Captain Alexander Loskutov, a correspondent with the Morskoi sbornik magazine, was killed near Grozny on the morning of 17 December 1999.

It was Loskutov's second tour of duty in Chechnya. He was travelling with a column of marines when the driver of a tank lost control of his vehicle and crashed into the correspondent's car. Loskutov and his driver died on the spot. He had spent a month in the trenches and flown in a helicopter over besieged Grozny, wrote Kommersant (21 December 1999) but died beneath the tracks of a Russian tank. First reports said he had died in Dagestan.

Loskutov had served in the Russian armed forces since 1973. In 1998 he was transferred to Moscow from Sebastopol and began work for Morskoi sbornik, a magazine published by the Ministry of Defence, but for lack of accommodation did not move his young family there.